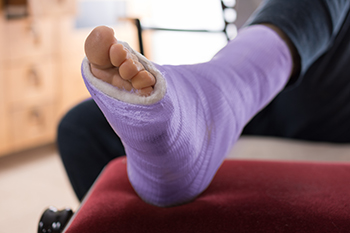 A fracture is a break in any bone of the foot, and there are about 26 of them. Fractures of the foot come in several varieties. First is a displacement fracture, in which a gap develops between the ends of broken bone. A stress fracture, or non-displacement fracture, is a hairline crack in the bone. A pathological fracture, which can be caused by an underlying condition like osteoporosis, may cause a break even without a high level of force. Finally, a compound fracture occurs when a bone breaks through the skin and protrudes to cause an open wound. For this type of fracture, immediate medical attention is suggested. You can help prevent fractures in the foot by walking or running on even surfaces. If you are on a trail, it is essential to check the ground in front of you and keep a pace that lets you adjust to sudden changes in terrain. Footwear that fits properly and is geared specifically for the activity, is extremely helpful in preventing fractures. Avoid participation in activities for which you have inadequate training. Finally, experts suggest reducing the amount of time spent in high heels, which can affect stability and increase the risk of injury. For more information on fractures of the feet, please consult a podiatrist. 
Foot and ankle trauma is common among athletes and the elderly. If you have concerns that you may have experienced trauma to the foot and ankle, consult with one of our podiatrists from Redwood Podiatry Group. Our doctors will assess your condition and provide you with quality foot and ankle treatment.
Foot and ankle trauma cover a range of injuries all over the foot; common injuries include:
Broken bones
Muscle strains
Injuries to the tendons and ligaments
Stress fractures
Symptoms
Symptoms of foot and ankle injuries vary depending on the injury, but more common ones include:
Bruising
Inflammation/ Swelling
Pain
Diagnosis
To properly diagnose the exact type of injury, podiatrists will conduct a number of different tests. Some of these include sensation and visual tests, X-rays, and MRIs. Medical and family histories will also be taken into account.
Treatment
Once the injury has been diagnosed, the podiatrist can than offer the best treatment options for you. In less severe cases, rest and keeping pressure off the foot may be all that's necessary. Orthotics, such as a specially made shoes, or immobilization devices, like splints or casts, may be deemed necessary. Finally, if the injury is severe enough, surgery may be necessary.
If you have any questions, please feel free to contact our offices located in Eureka and Arcata, CA . We offer the newest diagnostic and treatment technologies for all your foot care needs.
Read more about Foot and Ankle Trauma